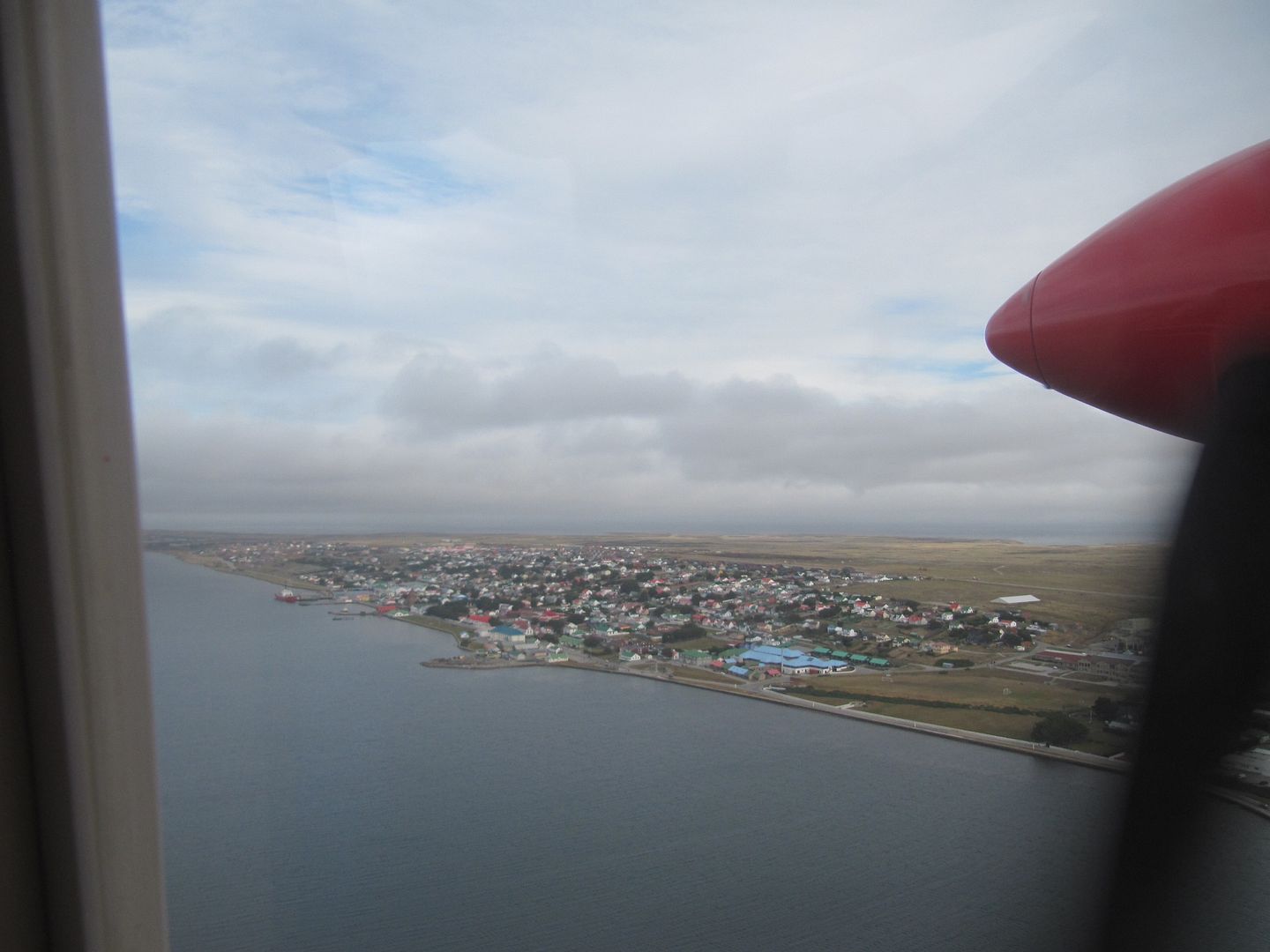 Stanley from the FIGAS plane
The Falkland Islands are bigger than I had thought they were. They are made up of the two main Islands of East and West Falklands, and 778 smaller islands. Overall they cover around 4700 square miles, which is just over half the size of Wales. Whilst the larger islands are all habitable, and some have farms and small settlements on them, the only town is Stanley on East Falklands. Of the almost 2500 inhabitants (excluding the military base in Mount Pleasant) , 2115 of them live in Stanley.
Everywhere other than Stanley is regarded as Camp. There are a number of other small settlements in Camp, with just under 200 people living elsewhere on East Falkland, about 125 on West Falkland, and just over 40 on the smaller islands.
Jubilee Villas
But even as the only actual town on the islands, Stanley is still very small. Whilst the residential part goes out a bit further. The main centre of the town is only about three streets by seven. There is the all important jetty and visitor centre; a bank, but no cash point; a post office with a philately bureau - apparently collectors stamps are big business here; a police station where you can see about five helmets lined up by the door and three vehicles outside; and a shopping centre, with a supermarket/clothes shop, cafe, electrical shop and a hairdressers in it.
1982 Memorial
Just off the centre is the hospital, the government buildings and Governor's House and a little further again is the museum. The museum is interesting. It covers a range of stuff from maritime and farming, to how people used to live, and the 1982 conflict. As a person who is not keen on dentists to start with, I was looking with horror at the primitive dentist's chair with foot propelled drill, when a local came up and said she remembered being in that chair and that the dentist often only pedalled the drill very slowly. She was glad when he left; I was glad never to have had that particular experience at all.
The 1982 Conflict section was good as it had a number of pieces of Argentine propaganda and some journals that the locals kept, which gave an fascinating insight into what it was really like during that time. The locals talked about how the Argentine soldiers would come and ask them to buy food because they were hungry, about how one of their friends had gone back to the bottle, and about the distress felt when a civilian house was accidentally hit killing three locals.
William and Kate 'on tour'
On a less serious note was the little exhibit dedicated to the wedding of Prince William and Catherine Middleton. As part of their celebrations they obtained a life size cardboard cut out of their engagement picture and took it on a tour of the islands taking photos of it in all of the different places and with various local people. The resulting album was amusing to see although you have to wonder whether William himself would be able to stifle a laugh if he sees it during his visit here.
Stanley Cathedral
Otherwise there are a couple of hotels, a few B&Bs, some gift shops, a couple of cafes, two churches and of course, some pubs. One good solid day of sightseeing and you could have been everywhere there is to go and seen everything there is to see.
But that wouldn't mean that you have got to know Stanley. We chose to spend a bit long here, not just so that we could do a couple of day trips and take advantage of the comforts of home, but also so that we could get an idea of what it is to be a Falkland Islander.
The Penguin News office
Stanley is a proper little village. Everyone knows everyone, and everything about everyone. The opening hours of some of the shops are short and erratic, revolving around the arrival of the cruise ships. In season, they have about five cruise ships a week, and the schedule is printed in the local newspaper, The Penguin News, so that the pubs, cafes, tour guides and gift shops know when to expect a 'rush' on. We read an article in the Penguin News about the annual raft race and it referred to one of the competing families arriving late 'as usual' for the start. This kind of comment can only work in a place where everyone knows that this family is notorious for being late.
4x4 with F6G numberplate
And then there are the vehicles. Now in London, many people drive 4x4s just to do the school run. Here though the fact that just about every vehicle you see is a 4x4 is fully justified, or even essential. Even in the centre of Stanley they only salt a few of the roads when it is icy, and as soon as you get out of the town, the majority of roads are not tarmac, and many are just very uneven grassy tracks.
Of course with such a small population, the number plates are pretty tiny. They all start with an F and end with the appropriate letter for the year, but in the middle, the most they have is three numbers. Nic was very pleased to get a picture of one of the three character plates, F6G.
Talking of the driving, it did seem rather strange that in such a small town, we should find one of the junctions marked up as an accident blackspot. We never saw more that two cars there at any one time, so no idea how they manage to have enough accidents to merit it being a blackspot. And it rather amuses me that there is a Stanley bypass road.
One of hundreds of wrecks in the islands
But whatever the size of the town or the facilities available, it is the people that really make a place. The people here were friendly, although I think that some were perhaps getting slightly fed up of all the journalists in town. We stayed at the Waterfront Hotel, where we were made by welcome by Alex, the Chilean owner. He talked to us about the community and the concerns about the situation with Argentina, and explained some of the difficulties that the blockading had created. The main one was that the supply of fresh produce from Chile was very limited; it had become very hard to get enough eggs or fresh fruit and vegetables brought over. And we saw for ourselves that the local garden centre had to put a message into the Penguin News to tell people that they were unable to get cut flowers in for Valentines Day. And one of the editorials said that whilst the islanders would welcome Prince William's visit, their first question to him might well be 'Did you bring any bananas?'
Aside from Alex, we managed to get into quite a few conversations with people, especially once they realised that we weren't just here on a landing from one of the cruises. One of our best evenings was when we went to the pub recommended to us by Jackie, our host on Pebble Island. She sent us to The Rose, and whilst it wasn't very busy, and did have the Sun journalists from our hotel there, people were friendly and we were soon chatting about life on the islands. And when time was called, we were invited back to the owners' place next door to continue the conversation - and drinking - for a bit longer.
To a person from the UK, the Falkland Islands are like a home from home. Small, definitely. A little lacking in facilities and choice, yes. Windy, absolutely. But for all its limitations, it was a great place to visit.