Nazca monkey
 We had a leisurely start from Puerta Inka as the road that we needed to take had been closed off for a car race of some sort. So having spent some time making friends with the very noisy parrot called Pedro, we left at about 11am. Following a very good run through we arrived in Nazca before 2pm, so after a quick lunch , ten of us headed to the little airport across the road to take a flight over the Nazca lines.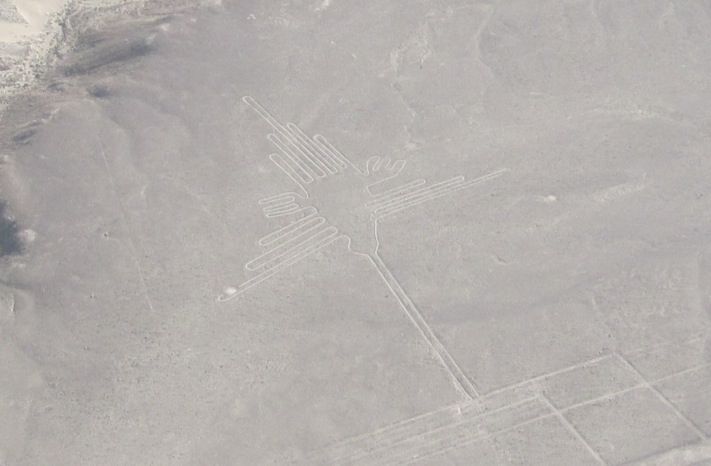 Nazca hummingbird

There was some trepidation about this as there have been a number of flights crash in the past, largely due to bad maintenance and overfilling planes. To the extent that our Dragoman crew were not actually allowed to arrange the trip for us, due to the potential liability. However, we were assured by the guy who arranged our flights that maintenance was now done properly, and that they had proper checks in place now, so we took our lives in our hands and signed up.

Nazca spider

There were five of us to a plane and they helpfully left us all sick bags just in case. Thankfully the day wasn't too windy, so the motion wasn't too bad. Probably just as well because as it was, with the motion that there was and the thirty degree banking that they did to enable us to see the lines, Nic and others were already feeling a bit queasy.
The Nazca lines are a series of huge outline pictures of animals that have been drawn into the desert. It is believed that they were drawn by the Nazcans who lived between 300BC and 700AD.They don't known how or why they were drawn although various theories exist, including them being an 'offering' to the Gods for rain.
Nazca astronaut - or alien

One alternative theory is that they were made by aliens, in part because one of the pictures that they call the astronaut resembles an alien figure. Personally I think I'd stick with the Nazcans but you never know.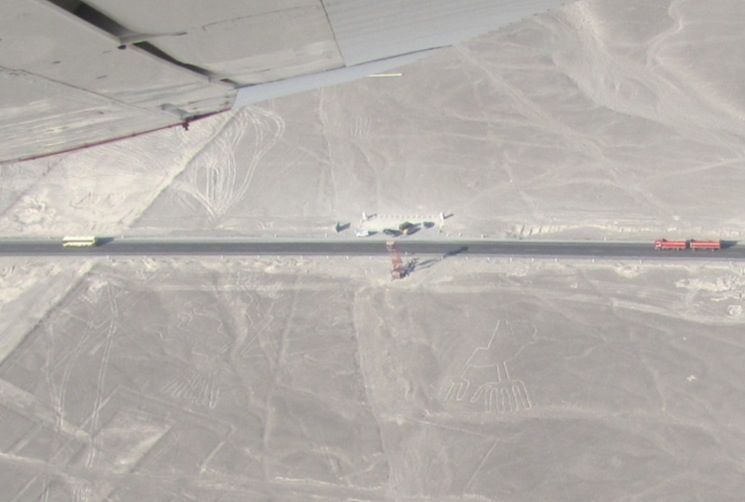 Nazca chicken and viewing platform

It was a good flight. We were able to get a good view of the lines and - most importantly - neither of our planes crashed! I have added pictures; they are a bit faint so you have to look carefully, but they're there. The one with the viewing platform and vehicles gives you an idea of the scale of these images.

Our plane at Nazca

After yesterday's dinner debacle, no-one was going to throw anything away without checking so we felt we were on safe ground. But then half way through making dinner, the gas ran out. After some attempts to get it replaced, Izzy arranged with the hotel that the cook group could use their kitchen to finish making dinner. What will go wrong tomorrow I wonder?