Cindy crossing Lake Titicaca
 Our next stop after La Paz was Lake Titicaca - which apparently means 'great puma', and our first stop was Copacabana. Inevitably there was much humming of the song by Mr Manilow, although of course that is not where he was singing about. However we were told that the Copacabana beach in Rio was named after the town here because the outline of the coast is similar.
The journey here was OK but got interesting when we had to take a ferry across the lake to where we were staying. There was a ferry for the truck, but we all had to get off and go across separately. This is probably for the best, as apparently one of the other truck operators lost one of their trucks recently when the ferry sank.

Sunset at Copacabana, Bolivia
 But it was a strange sight seeing Cindy float off on a small ferry that was really no more than a floating platform with a small outboard motor. But it made it across OK, and we followed on the passenger boat. I've said before that health and safety isn't a factor in Bolivia, so we were a bit surprised and slightly worried when they started handing out life jackets. And then we were even more concerned when they ran out half way through the group! But still, we made it across without incident.

Sunset in Copacabana, Bolivia

Copacabana is a small place with a couple of main streets that are focused on the tourist markets and then other streets clearly intended for the locals. Our hotel claimed to have no record of our booking, despite Izzy being able to see the note of it on the counter, and it took repeated attempts to get towels and loo rolls, but generally it was OK. The worst bit was the hike up five flights with the rucksacks.

We headed off almost straight away for a group meal on the roof of a local restaurant. After watching the sun set though, we all gave in to the cold and retreated inside, taking our tables and chairs back down with us.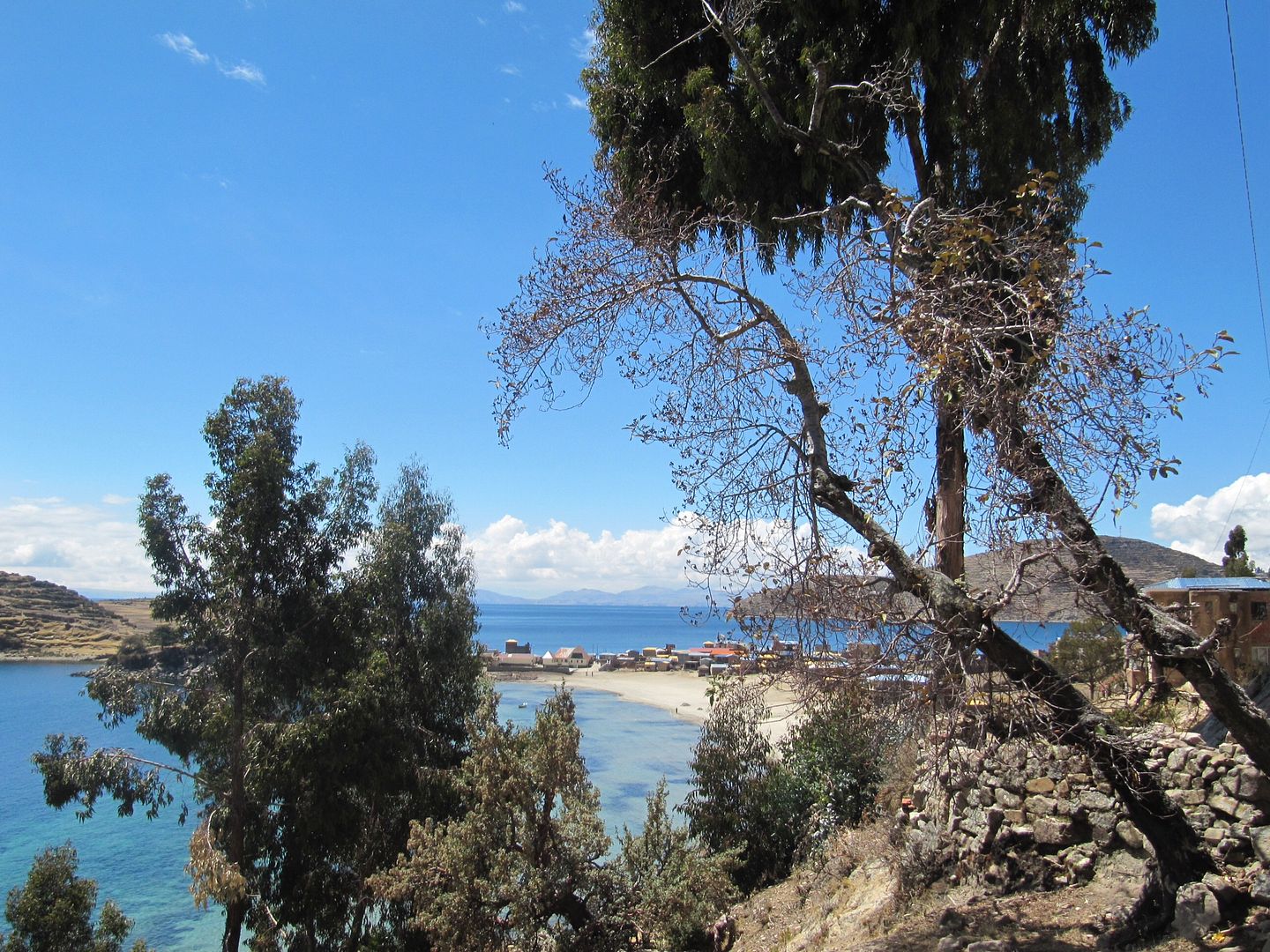 Isla del Sol, Bolivia
As in most places in South America there are a lot of dogs wandering around. Unfortunately the ones here all decided to congregate close to our hotel for dog wars. Every so often, minor skirmishes would break out with a lot of very loud barking. Nic wasn't impressed and broke out the earplugs.
Isla del Sol, Bolivia
The next day we set off to get a boat to the Isla del Sol, the supposed originating point of some of the local gods, and some suggest the sun itself. No life jackets at all this time, despite it being a two hour journey, but we decided to take that as a sign that this boat was safer - we know that it probably isn't true, but sometimes you just have to tell yourself these lies to make you feel better!
Isla del Sol, Bolivia
When we got there, our little walk to the inca ruins took us nearly an hour and a half, mostly up hill. I was knackered. After a brief stop for lunch, the plan was either to go on for another three hour walk to the other side of the island, or go back the way we'd come and take a boat to the other side. Either way we had a boat to catch back to Copacabana. As we only had two and a quarter hours to do the three hour walk before the boat was due to go, and I figured that meant going faster than I would cope with, I decided to go back. Trouble was, we only had forty minutes to catch that boat too. Although most of the way back was downhill, there was still quite a steep bit first and so we know this was not long enough. Thankfully, the guide sorted out someone to go on ahead and make the boat wait for us. We rushed back and made it in fifty minutes in the end, and then the boat sat there for another fifteen minutes before it actually left.
Lake Titicaca, Bolivia
The rest of the group was also late back from their walk, but the boat waited for them, so we made it back to Copacabana. Nic and I took a walk around the main square before dinner rather than going back up all the steps to the hotel room, and then found a little place to eat and sample a few cocktails. We had some interesting charades and pictionery with the staff to try to work out what a few of the items on the menu were, but we got there.
That was our last day in Bolivia, as the next day we were to cross the border into Peru