Sacsayhuaman, Cusco, Peru
 I had spent a long time trying to decide whether or not to do the trek, and up to a few days before I still hadn't decided. Balancing my definite lack of fitness, especially uphill, and my troublesome knees, with the obvious feeling that this is something that should be done, was not easy.
There were two trekking options available when we booked, the Classic Inca trail of the kings road, which leads to the Sun Gate at Machu Picchu, or the community trek, which does not actually go to Machu Picchu, but instead takes you through a higher pass and spends time with some of local communities on the way.
Smitty at Sacsayhuaman

As you need a permit for the classic, and there are many steps that I knew I would have trouble with, we had booked onto to community trek, with the understanding we could decide not to trek if we wanted to.

I had been concerned by my uphill slog at the ziplining and the walk on the Isla del Sol, and was veering towards not trekking, but was gradually persuaded by others that I could do it after all, so I said yes. I think what swung it for me was that I thought I would regret not trying more than if I tried and failed.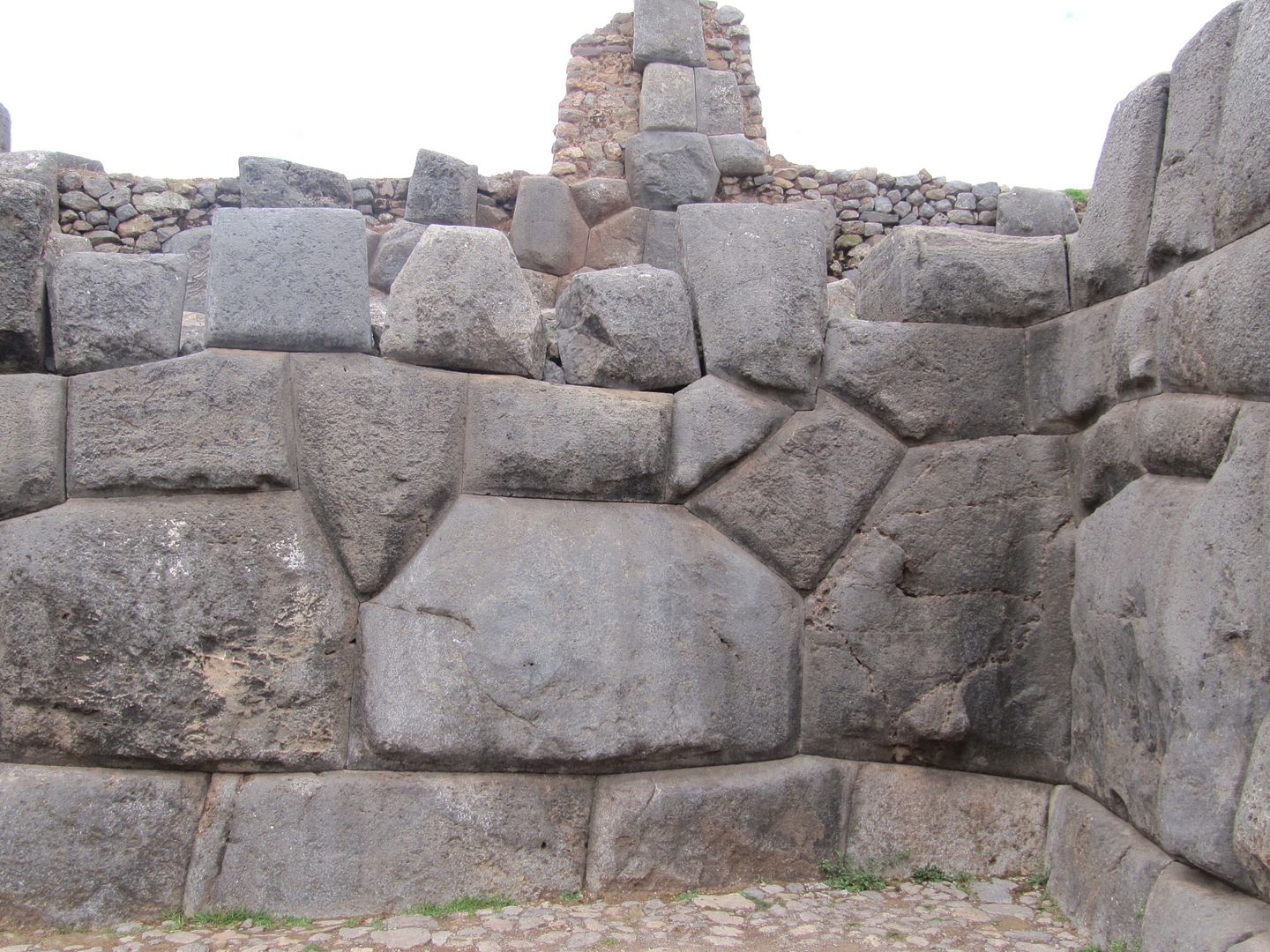 Sacsayhuaman, Cusco, Peru
So on the Tuesday morning we set off at 6:30am. The plan was to visit two inca sites by coach in the morning, have lunch, then trek for 3-4 hours to the first camp in the afternoon. We then had two full days of trekking to do to reach Lares, where we would go by bus to Ollantaytambo and visit the ruins. Then on the Saturday we would get the train for the last stint to Machu Picchu itself.


Sacred Valley of the Incas, Peru
We hit the first site Sacsayhuaman early enough to have the place almost to ourselves. Our guide for the trek, Smitty explained to us the process they used to build this sun temple from huge great lumps of rock, and showed us the rocks that were, with a bit of imagination, shaped like llamas or other symbolic animals. Each piece of rock had to be individually shaped to fit neatly into place.
We made our way very tentatively through one of the pitch black tunnels, all carefully holding on to the person in front, mindful of the student who had gone missing and never been found.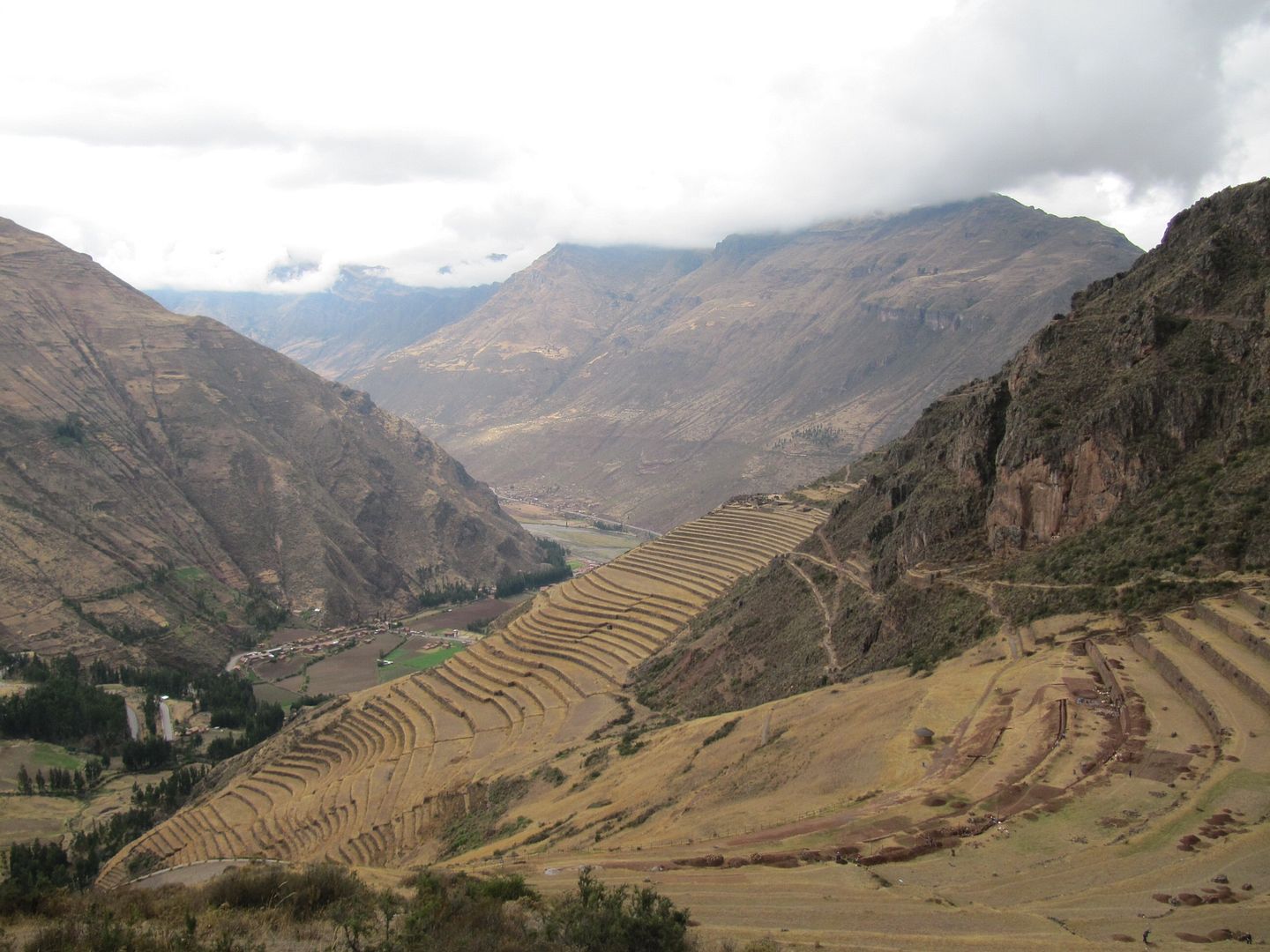 Terraces of Pisac, Peru

From there we drove on past the Sacred Valley of the Incas, which is the fertile valley around the river, and on Pisac, with it's huge terraces cut into the hillsides, where the incas would grow a huge variety of vegetables including hundreds of varieties of potato.
Pisac, Peru
We saw the holes in the hillside opposite where they would bury their mummified dead, and the irrigation system they used to get drinking water.
Then after lunch we drove into the valley to start the trek. By this time, seeing the mountains in front of me, I was seriously starting to wonder whether I was doing the right thing, especially as it had started to rain, but we left our dufflebags with the porters and mules and set off.
Halfway up on the first trek day
And straight away we started up hill. And more up hill. And more uphill and .... well you get the idea! I kept up with the group for a while, but gradually started to fall back as we hit the steeper parts. Now I had been promised that unlike the classic trail there were no steps. Technically that was true, there were no actual cut steps, but when you have to clamber your way up from one rock to another, it may as well be steps, so I found it hard going.
So on we went. Up hill to varying degrees of steepness almost constantly, over some decidedly difficult terrain. I can tell you I was very grateful to have walking poles (thanks again to The Girls for those) but even so I had to stop regularly to recover my breath. The photo is about halfway up and you can see the valley where we started from way down below.
Three hours in, and quite knackered, we had done the worst of today's route, but I was some way behind the others and the guide had realised that I wasn't going to make it to the camp before it got dark. So he put me on a mule for the rest of the journey.
 
The mule was fun! I was assured that it was quite strong enough to carry me, but they are fairly small creatures, so you feel a bit precarious on top as they make their way over gravel and boulder tracks. When they go down hill (there were actually a few downhills in this bit) you have to lean back and it feels like you are just going to slide straight off! They also tend to walk right on the edge of the path, so that all you can see is a drop down the hillside, which is quite unnerving. But we made the trip without major mishap, and I have to admit it was quite nice to be able to look around at the scenery rather than just focus on making it up the hill without dying!
Our campsite on the trek

But while I had an easy last section back, poor Nic didn't. Because he had walked with me, he had to cover the last bit extra fast to catch up and get back before it was dark. He managed it but he was knackered by the end.
So we arrived at the first camp, which was in a lovely setting, although disappointingly we had no interraction with the local community who we were staying with. In the photo of the campsite you can see the mountain we would be going up the next day.
The good thing about these treks though is that all you have to do (all!!) is walk with your daypack, the porters do everything else for you. They put up and take down your tents and cook the meals. And they do a really excellent job. They made us a three course meal using just a portable gas ring. And in the morning they brought us tea or coffee and hot water for washing.

llamas and mules for the trek

But however easy they make the practicalities, you still have to be able to manage the walk in the daylight. And knowing that the walk on day two was so much harder than day one I was seriously worried about the uphills. I didn't want to have to rely on using the mule, partly because it doesn't really feel like I have achieved it if I get on the mule, and partly because other people might need it.
I also knew that if I was going to get on the mule, then there was no way that Nic could walk with me this time, so I would be walking on my own which would be a bit dull too. But the final straw was that the guide told me that he was concerned about my being able to do the steep downhills on day two. He felt that they were too steep and slippery for my knees to cope with properly.
So I figured that if I was worried about the uphills, the guide was worried about the downhills, I didn't want to have to rely on the mule, and I wouldn't enjoy walking on my own, then really it wasn't sensible to carry on. So I arranged with the guide that I would go back the way I had come the next day, rather than carrying on forward. Nic decided he would come back too.
more relaxed on the way down

So after a good meal and a cold night in the tent - thankfully OK due to plenty of advanced wrapping up well - we set off back down the hill. We left slightly after the others, but just as we did, one other person from the group started making their way back down the track, having decided to join us. So the three of us took a rather easier four hour journey back to the main road where we picked up an local minibus to the nearest main town and then a cab back to Cusco. By the time the others would have been staggering into their campsite, we were back in Cusco enjoying a hot shower and an afternoon nap! And the others confirmed afterwards that it had been a really hard walk that day, so I have no doubt that I did the right thing in going back.