La Paz, Bolivia
We arrived in La Paz a day earlier than originally expected so that those people who wanted to cycle the Death Road could do so. We decided not to do it, but quite a few of our group did and they enjoyed it, so if you like that kind of thing and get the opportunity then it is probably worth it.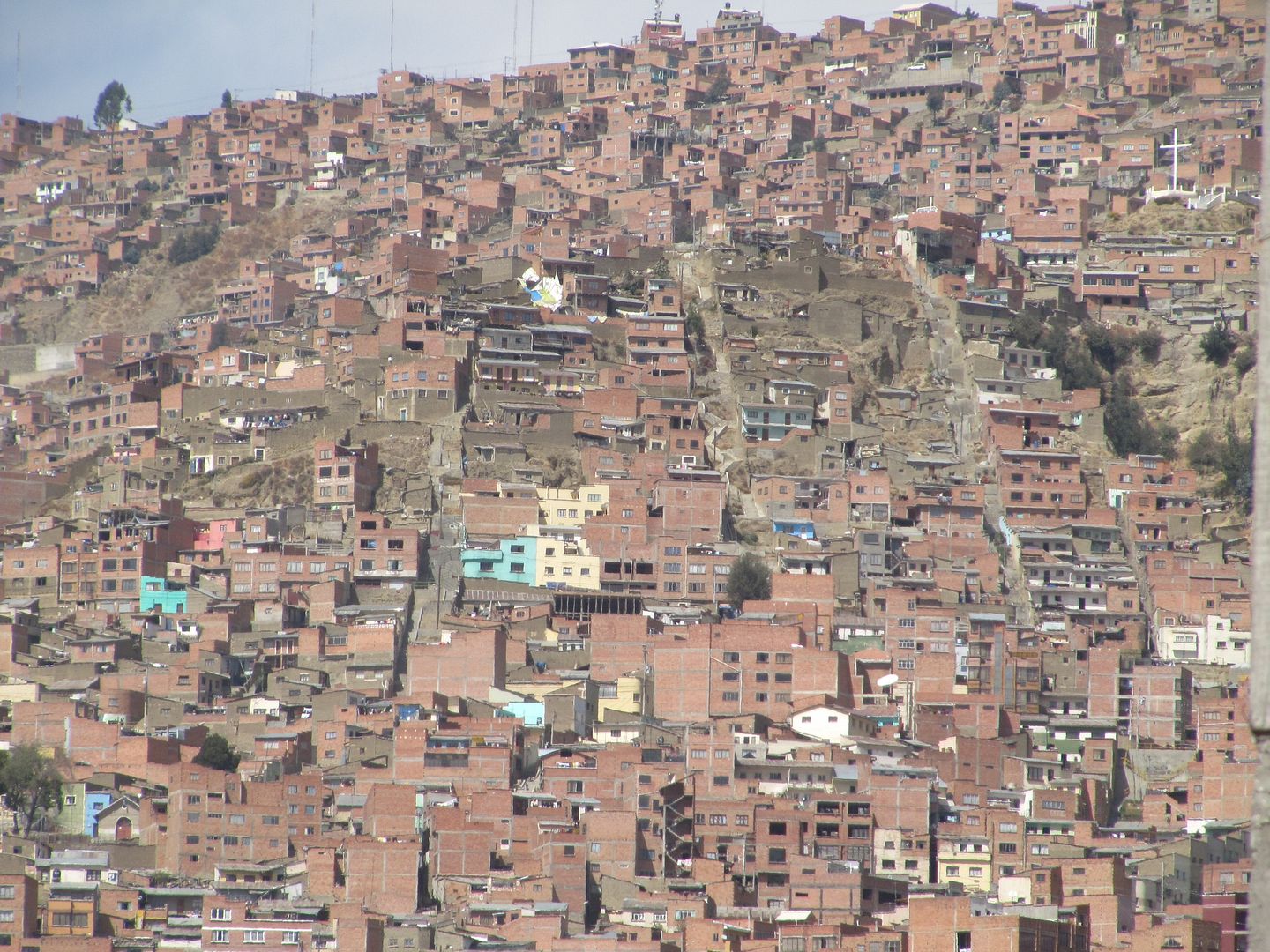 La Paz, Bolivia


La Paz, Bolivia

Its called the Death Road because it is a steep descent from over 4000m with a huge drop at one side. It is no longer open to vehicles to use it because it is too dangerous, but you can cycle down it.
There are numerous crosses along the road that mark where people have gone over the edge and been killed. We did have a faller from our group, but thankfully she only came off the bike, so she just had an injured arm and a lot of bruises.

La Paz, Bolivia

But back to La Paz. I can't say I was particularly looking forward to the capital of Bolivia. I was expecting it to be overcrowded, busy and a little claustrophobic. I held out little hope for the standards of the hotels and restaurants, and I expected a lot of poverty and hassle on the streets.
mural on our wall in La Paz
But I was wrong. Firstly the hotel was fine. OK so it had loose wires in the shower; a poll of our group showed that you either got a lukewarm shower, or a hot shower with electric shocks thrown in! But we've got used to the absence of health and safety and have learnt to appreciate any warm water. And the hotel was full murals on the walls. Our room had a country village scene covering the whole of one wall.

La Paz, Bolivia

And the city was busy yes, but it was really fairly relaxed and friendly. There was poverty, but no more beggars than in most cities, and we weren't hassled by them or by people selling stuff. In fact I quite liked La Paz.

La Paz, Bolivia

We wandered around the town and looked at some of the churches squares and buildings, but the best thing was just seeing the markets and street life. Women in their traditional big skirts and bowler hats were selling all sorts of things from little shopfronts or just on the streets. Some were selling spices, pastas and vegetables from huge sacks, including things that looked like pebbles but that we later found out were actually dried potatoes.


llamas in La Paz, Bolivia
 And like the rest of Bolivia, there were plenty of places selling touristy stuff. Everywhere you look there are the piles of alpaca jumpers and socks. But they are decent quality and reasonably cheap, so by this time I think I am the only person on the truck that doesn't have own item of alpaca clothing.

But the most interesting place was the Witches Market. In these few streets, they sell all of the ingredients you need for medicines and 'potions'. You can buy the various items that make up an offering to Pachamama, or mother earth. People make offerings to bring luck to any aspect of their life, and they normally include sweets, tobacco, alcohol and coca leaves. But an extra item used, especially if you want to bless your new home, if a llama foetus. The stands had many of them strung up. Some were very small and had no fur, so clearly hasn't ever been born, but others were a little larger and had fur, so perhaps were newborns. And strangely the sight of this wasn't nearly as disturbing as it sounds!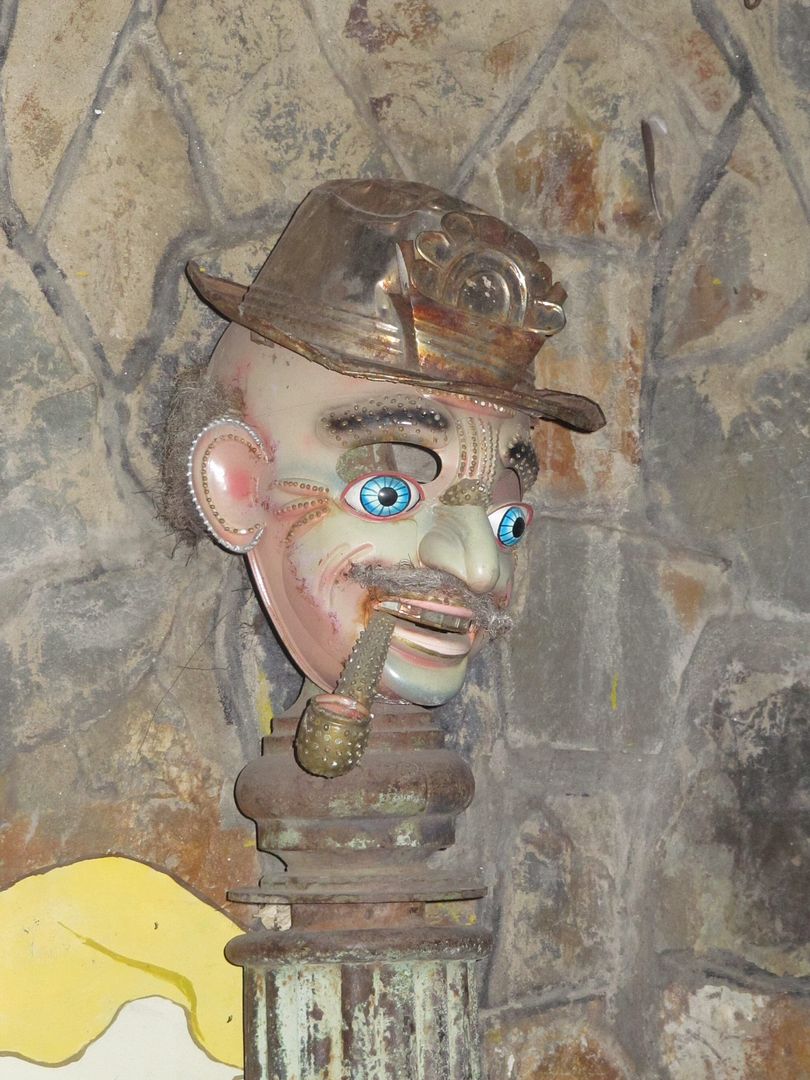 La Paz, Bolivia

And as La Paz was the end of our first leg, we had our farewell meal with the old group. The place we ate in was fine for food, but was more interesting for its decoration. It was a but like a junk shop, with odd mismatched chairs, some almost throne like, chandeliers, and odds and ends everywhere. I liked it, although those taller than me - which is almost everyone - hit their head on one of the lights when they stood up.

La Paz, Bolivia

The two of us tried out a local cafe for lunch one day. The food was fine, but excessive. They have a tendency here to give you rice and chips with a meal, which is a bit of an overload really. We had lomo montado, which was a huge plateful of rice, chips, thinly sliced steak, sausage, fried egg, vegetables and fried banana! I couldn't finish mine but the table next to us had that, and then soup, and seemed to be going on to dessert when we left.
For our last night we all went along to a steakhouse which was very North American. A bit naughty I suppose, but the food was good and it made a nice change.
Zebra crossing, La Paz, Bolivia
All in all, La Paz was a pleasant surprise. The only problem was the hills, which although we have been at altitude for a while, still do take it out of you.