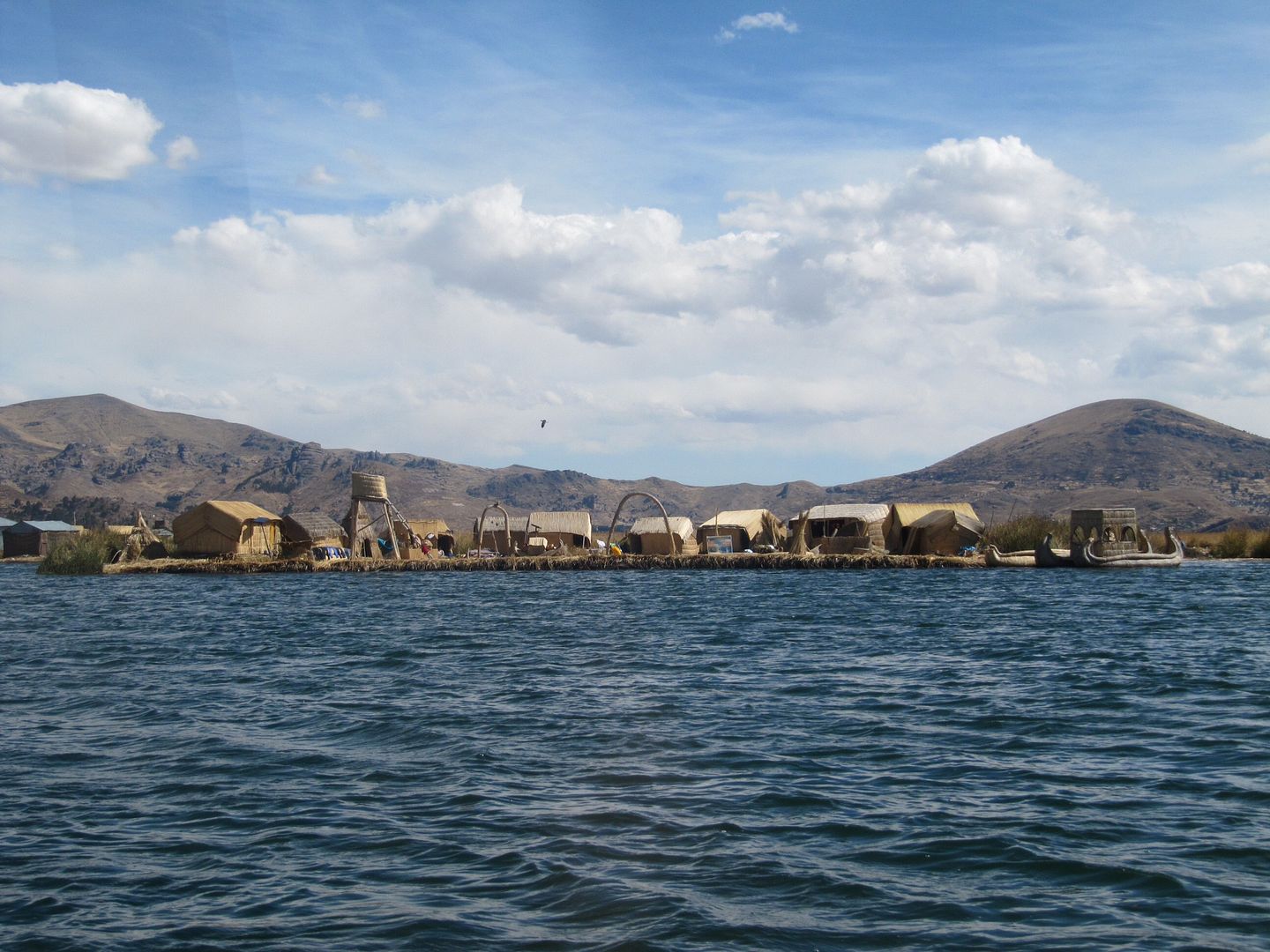 Floating reed islands, Puno, Peru
Our next stop was still on Lake Titicaca, but further around to place called Puno. After a quick lunch on the lake front, having run the gauntlet of people calling to us to eat in their place, we picked up a local guide for another boat trip, this time to the floating reed islands.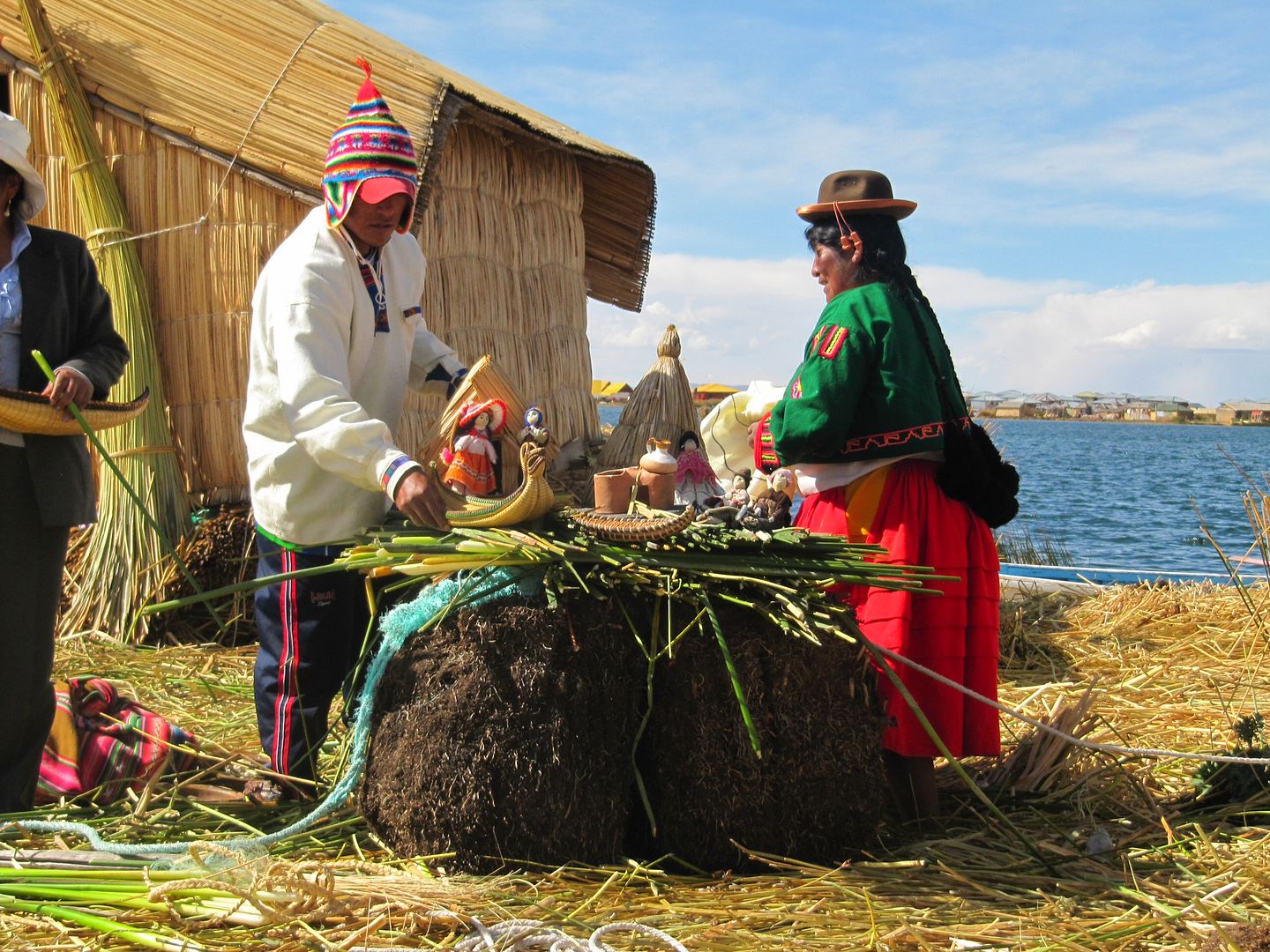 Floating reed islands, Puno, Peru

People having been living on the floating reed islands for centuries and we took a trip out to meet some of them and find out about their life on the lake. I'm not sure how I feel about this sort of tourism. I like to see how different people live and learn something about their the culture and lifestyle, but I feel like I am intruding into something personal when they take you into their home.
trading on the reed islands, Puno, Peru
I know that on a tour like this one, it is all planned and the people concerned use the tourism to make a living, either through a feeAdd caption from the tour or by selling their crafts to the visitors. It was made clear to us that these people were happy to have us visit and take photos, whereas there are some on other islands who do not accept visits and who believe that taking their photo takes their soul, so they are left in peace.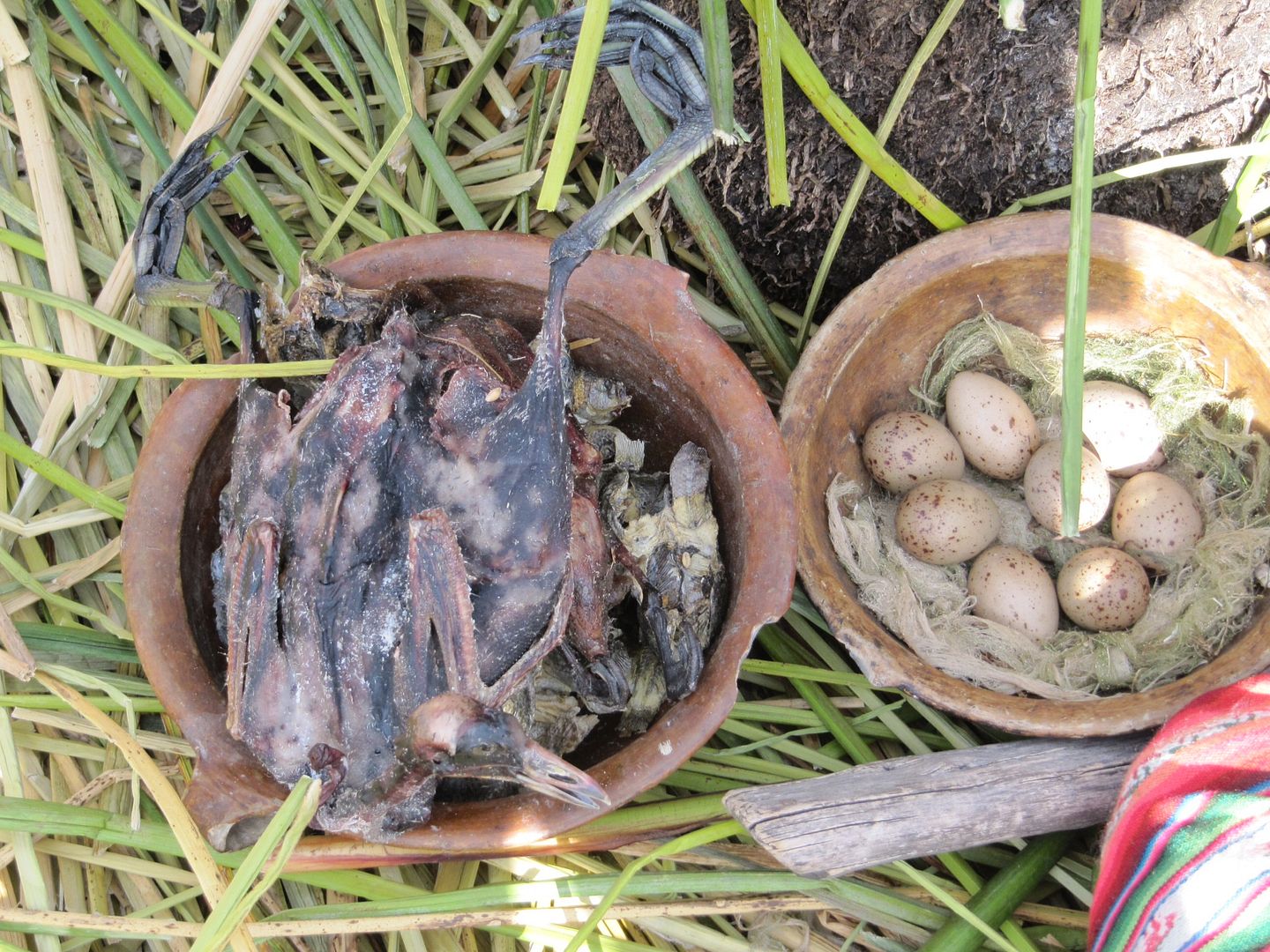 food on the floating reed islands
The visit itself was fun but a little cringe worthy at times. They started by telling us about the islands and how they are made but cutting the reeds loose so that they float, layering turfs and reeds to create a platform and putting in anchor poles to stop the islands form actually floating away. They told us about their food - largely fish, birds and eggs that they gather and dry out to store, with vegetables and other items that they trade on the mainland. They showed us how the women meet and barter their goods, and how they fish through a hole in the island. That was all quite interesting and even though we know that they don't all rely on these methods anymore, it was still a good insight to how people used to live and how some still do.
Floating reed islands, Puno, Peru
Then they sang us a couple of songs in the two local languages, Quechua and Aymara. That was a bit twee, but OK, as it showed us the different languages. Then they sang twinkle twinkle little star in English. Hmmm! There really wasn't any good reason for that.
dressed up on the reed islands

  Then they announced that they were gong to take us in small groups into their houses. This was a bit wierd and felt a bit intrusive, even if we did get the impression that a number of these people don't actually live on the islands any more. And then they dressed us up in their traditional clothes.
dressed up on the reed islands
For the boys this just meant a shirt, an woolly hat and a colourful 'man bag'.
For us girls we had big puffy skirts, waistcoats, things that looks like the big tassels that you tie curtains back with for our hair, and bowler hats. All in a variety of clashing colours. We looked like Boy George in the Karma Chamaeleon video!
 After a communal dance that seemed a bit like the hokey cokey, we had a tour around the very small island. Knowing that guinea pig is a speciality in Peru, when we saw the group of them in the 'garden' one of the group asked if they were for eating. Our islander looked a little horrified and said that they were pets. Not entirely sure I believe this, as it seems that a floating reed island is not an ideal place to be able to support pets that don't pay their way, but I guess we'll never know for sure.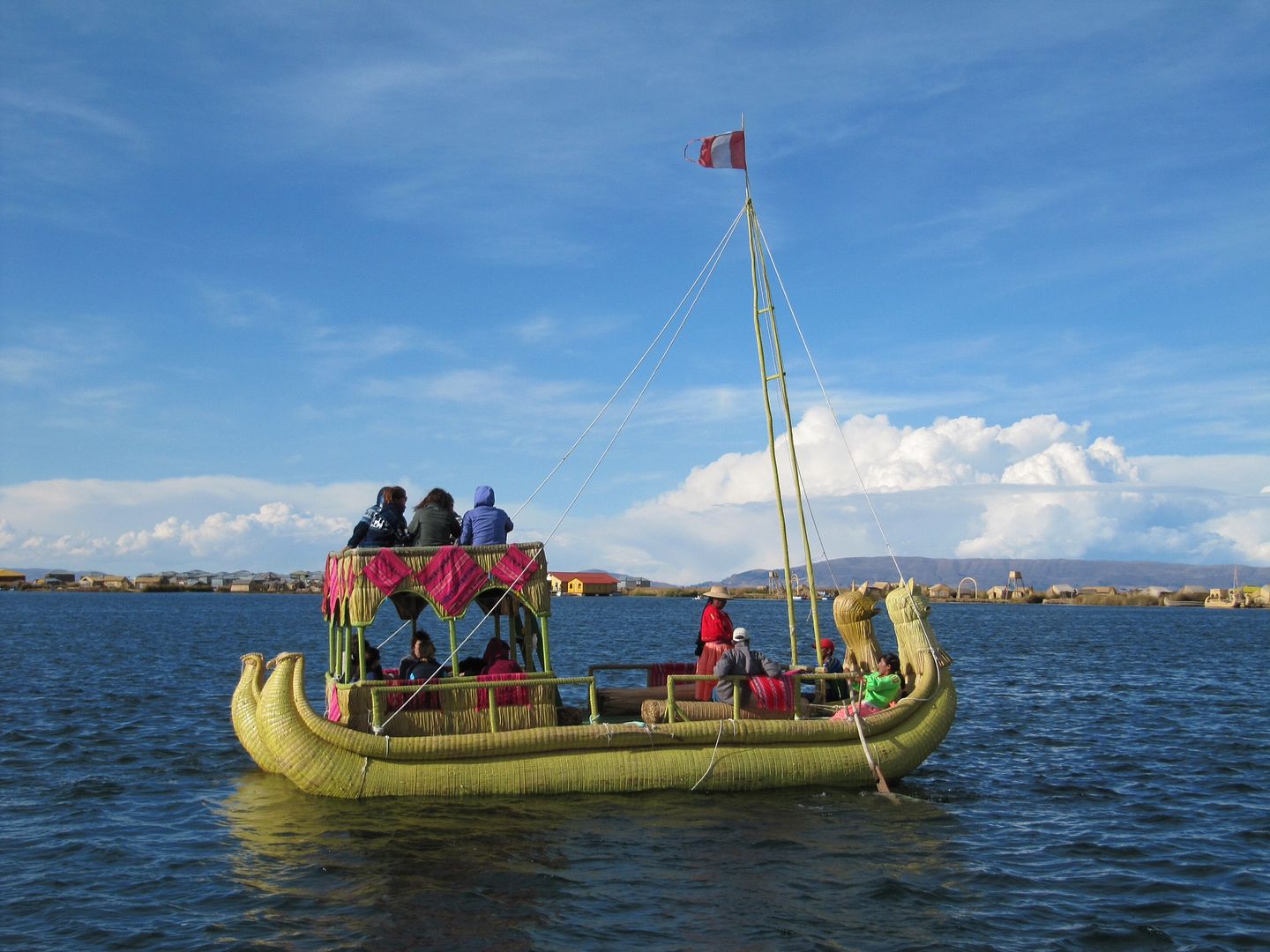 Reed boat, Lake Titicaca, Peru
 It was an interesting experience overall, though it is hard to know how much you see a real existence and how much is show for us. Obviously as soon as tourism impacts on a community then things change for the people, so there can't ever really be an authentic experience - even anthropologists studying remote tribes have to realise that the mere fact of their being there changes things - but it gives us some idea of what life was like. And I guess that as long as we recognise these limitations, and all parties are happy with what they get out of the deal, then there is no harm done.
Back on the mainland, we settled into our hotel for the night and then went out for a meal. I had my first opportunity to try out alpaca. It was nicer than llama, and not as beefy as many of the other animals seem to be, but it was nothing overly special. Guinea pig is next on the list, but I will wait until we get to Ariquipa for that.